Let's use an example to illustrate this.
Example 1: Original object created using all GA parts from one Creator.
Using the graphic below as an example, Creator Bob takes 3 objects (A,
B & C) in step 1 all of his own creation, assembles them into a
final object (D) in Step 2, and then submits Object D to the catalog.
Since object A is a seat node, Object B is a chair mesh, and Object C
is a solid blue texture, he rates his item as GA since it doesn't match
any APO sub-categories.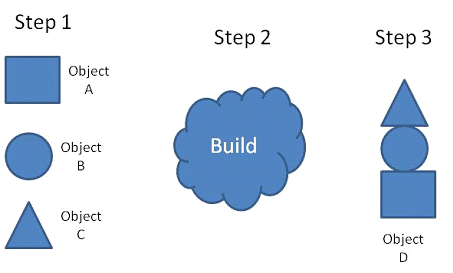 Example 2: Object created using parts from 3 creators
Let's
use the same graphic as above for this example. Creator Bob wants to
create Object D (A bar scene), so he takes Suzy's Object A (A room),
Jack's Object B (A counter), and Mark's Object C (A beer can labeled
'Beer'). Both Suzy's and Jack's objects (A & B respectively) are
rated GA. Mark's object (C) is rated APO (since it is Alcohol Use &
Reference). After Bob assembles the parts into Object D, he then goes
to submit the product. Bob knows his product contains an APO Object,
and thus rates his product as APO since he did not alter Object C to
make it GA. Thus the rating of Object C (APO) trumps the ratings of A
& B (both GA) and the final product (a bar scene) is rated APO.
Poses as a product
A pose is a product, therefore it is
subject to the same rules as any other product. Ex. If the pose is
shaking hands, that's GA, if it sexual intercourse that's UFI.
As defined at the top of the document a pose, by itself, is a virtual
good as any other. If a pose is combined with another object then it
adheres to the same rules as described in the "How ratings are assigned
and can be determined" section. The final rating for the combined
object is what matters.
Example. If you take a hand-shake pose and add it to a seat
node on a couch, the pose is GA, the couch is GA, therefore the final
product Couch + Animation is GA. If you take a bed (GA) and add a
sexual intercourse pose (UFI) than the final product Bed+Pose is UFI,
the bed itself remains GA."
Merchandising behavior
This section references specifically to product info pages and
product catalog pictures. Product pages must adhere to: the same
guidelines as products themselves. All thumbnails and text headings
must adhere to the product ratings, and not contain graphic images.
The following are
not allowed
for all existing and future means of merchandising products:


Any visual representations of arousal (nipples,genitalia, etc.);

Voyeuristic or 'up-skirt' shots;

Pictures that over-accentuate, highlight, or focus solely on the breast, buttocks, or genitalia;

Copyright/Trademark violations.

Obvious intent and combination of products
Items submitted to the catalog are subject to penalty whether
or not the violation is evident in the product description, provided
images, or in combination with other items, if they violate this
policy. Combination products, those that are broken into pieces and
distributed as such, with the intent for re-assembly, as well as those
with "hidden features", may be determined to be a TOS or this policy
violation unless all of the following statements are true:


There is clearly a legitimate and normal use of each individual product that does not violate the TOS or this policy.

The primary or normal use of the individual product does not violate the TOS.

The provided product description and images do not suggest
violations of the TOS or this policy, and the hidden features do not
violate the TOS or this policy.

Each individual product is properly rated.

The whole constructed product does not violate the TOS or this policy.

While the combination of items by a 3rd party is outside any the
original creator's control, if the combination of products implies
obvious intent, all parties will be held responsible.
For example: Someone creates a ten foot statue of a phallus
and then proceeds to chop it up into 5 unassuming blocks. Each block is
submitted as an individual product which are rated General Audience.
However, when all of the individual block products are put together,
they become a phallus (the original product). The resulting combination
of products is unsuitable for General Audience and so the intent is
obvious. Therefore the individual products in this case will be
reviewed and the creator will be held accountable.
Submission of combination items and hidden features that violate the TOS may be penalized more severely than normal.
Clarification on 'Product' problems vs. 'Product description' problems
A product can be found guilty of violating the General Audience
rating for several reasons. If a virtual good contains any of the
elements listed in the APO/UFI section above, that product will be
marked appropriately as not General Audience regardless of any other
atribute.
However, even if the actual product meets the General Audience
criteria, it can still be marked as not fit for General Audience for
reasons including but not limited to: inappropriate content in the
product's catalog image, product's name and/or product's description.
For example, when selling a skin tone, it is
*NOT OK* to show a picture of a naked avatar and still mark that product as General Audience
.
Instead, you must use the minimum coverage guidelines below to display
an avatar wearing enough to not be inappropriate but also show your
beautiful product.
Similarly a product page may not show a GA item and then
market it with language which implies AP status, or covered by the
previously defined category terms.
The
Female Bikini Top
and the
Female Bikini Bottom
by IMVU inc. should help you appropriately display products such as skin tones.
Minimum Coverage
The images below define the minimum content coverage for
General Audience content for both female and male avatars. This does
not omit lingerie or prurient content that may cover this amount of
skin but violate this policy in other ways.
Areas in red MUST be completely covered in order to qualify as
General Audience. In addition, areas in orange must be at least 50%
covered to qualify as General Audience. Items must also provide the
same amount of coverage as the total red, orange, AND white areas on
each half of the avatar body, as in the example images. In other words,
GA clothing items must not ONLY cover the red/orange areas as
described, they must also include additional coverage as well (ie, no
"pasties") in a manner that is commonly acceptable to IMVU's GA
audience.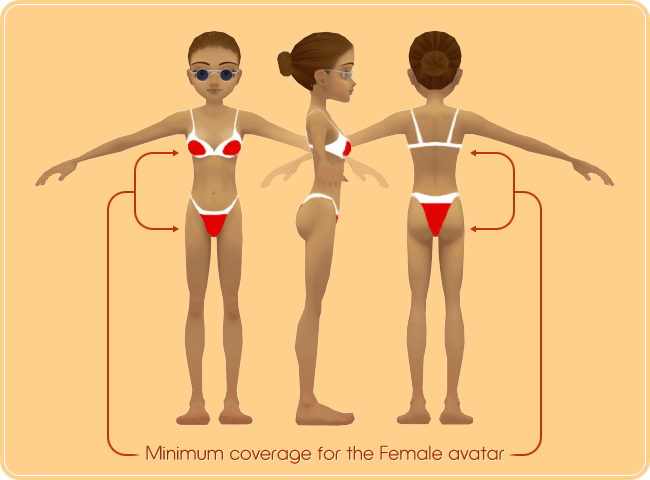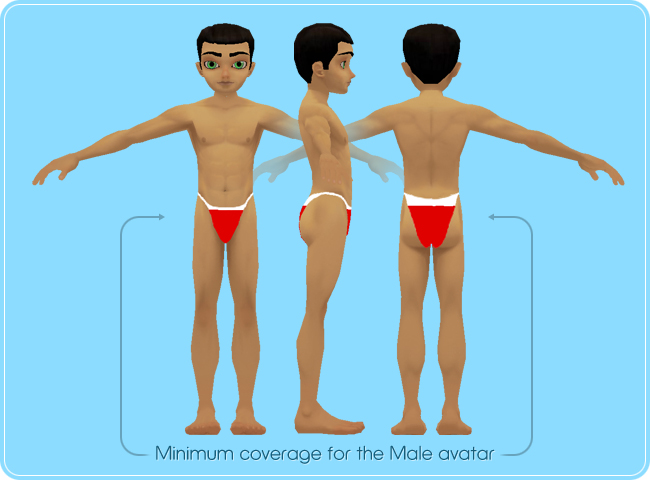 IMVU supplies the above textures so you can easily verify that
your product meets the minimum coverage guidelines. Here are the links
to the skin PSD and compressed JPG files:
Female Minimum Coverage Skintone PSD
Female Minimum Coverage Skintone JPG: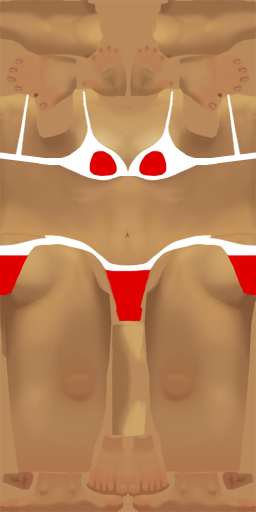 Male Minimum Coverage Skintone PSD
Male Minimum Coverage Skintone JPG: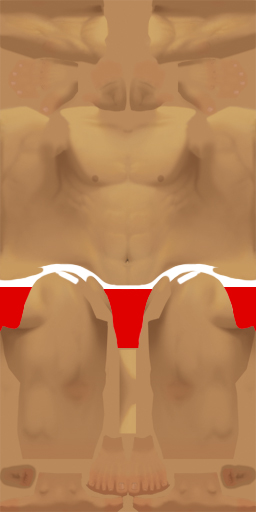 IMVU also supplies creators with its original Photoshop layers
templates for avatar skin. Included in each of these is a layers folder
entitled "leaves". This folder displays leaves over the nipples for
females and the genitals for both males and females. One of IMVU's
tests for whether a product ought to be removed from General Audience
is to see if the leaves in one of the default skins can be seen. If
these leaves can be seen, the product is removed from General Audience.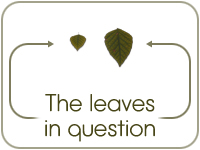 There are ways of getting around this "leaves" approach so
please do not consider the absense of leaves a ticket to a General
Audience rating. Your products, product catalog images, product
descriptions, product names and avatar pictures must adhere to the
criteria listed above.
Un-aroused guidelines
While a product that contains any aroused body part is
Unsuitable for IMVU, UN-aroused genitalia is permitted for Access Pass
Only products. However, UN-aroused genitalia of
inappropriate size is not permitted.
The bright green portion of the image below shows the relative size that is acceptable for un-aroused genitalia.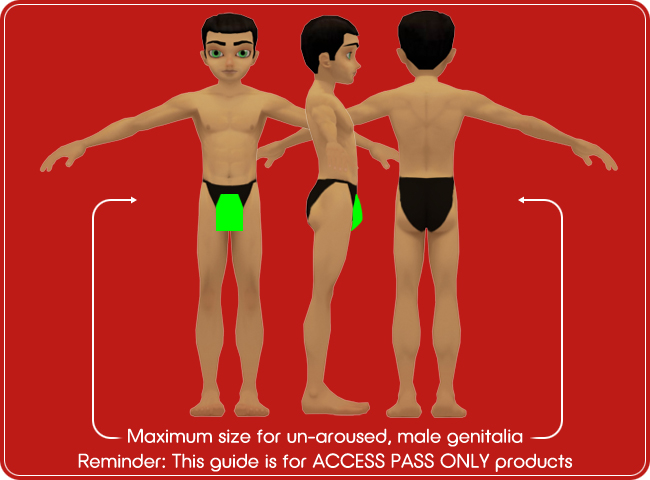 Terms of Service violations
In addition to the restrictions set forth by the sub-category
definitions, products submitted to the catalog must adhere to the
general IMVU Terms of Service.
Copyright/TM violations
IMVU prohibits the submission of Copyright and TM violations to
the IMVU catalog. To learn more about what a Copyright or Trademark
violation is, please
click here.
Submission policy
IMVU is committed to giving our Content Creator community the ability
to get their products published as quickly as possible. At this time we
are granting all Content Creators the ability to submit a product
directly into the catalog without an approval step. This process may
change in the near future.
Final Rating Assignment
In all cases of content ratings, IMVU maintains the right to be
the final arbitrator of an item's content rating and any action taken
to support that rating or punishment involved in a policy violation.
Changes to the Policy
IMVU reserves the right to change any portion of the Virtual Goods
Rating Policy to fit new requirements to its business (ex. Changing
laws) at its discretion. IMVU also reserves the right to create
sub-policies for specific countries where required. All changes will be
commnicated with best faith efforts.